All cases
Re-imagining the Construction Industry. From model to insights, from insights to impact.
Learn how we helped the brilliant idea of the Building Model Analytics technology turn into a disruptive digital solution for builders and real estate investors.
About the client
The idea came from two Siemens Real Estate (SRE) employees and was
accompanied and supported by the Siemens Technology Accelerator, the Siemens
internal unit for promoting start-ups.
Industry: Construction

Location: Germany
What is Twingine?
Twingine is a cloud-based solution that helps visualize and improve building efficiency from anywhere in the world by linking digital building models with external data for BIM use cases.
The software is aimed at creating sustainable and space-efficient data-driven architecture projects and unlimited design options simulation to find the ideal cost and material effective answers in no time.
By simply putting the data, the user gets a comparable model that gives much room to unlock an optimization potential. All data is clearly visualized and is ready to be applied for real-world projects.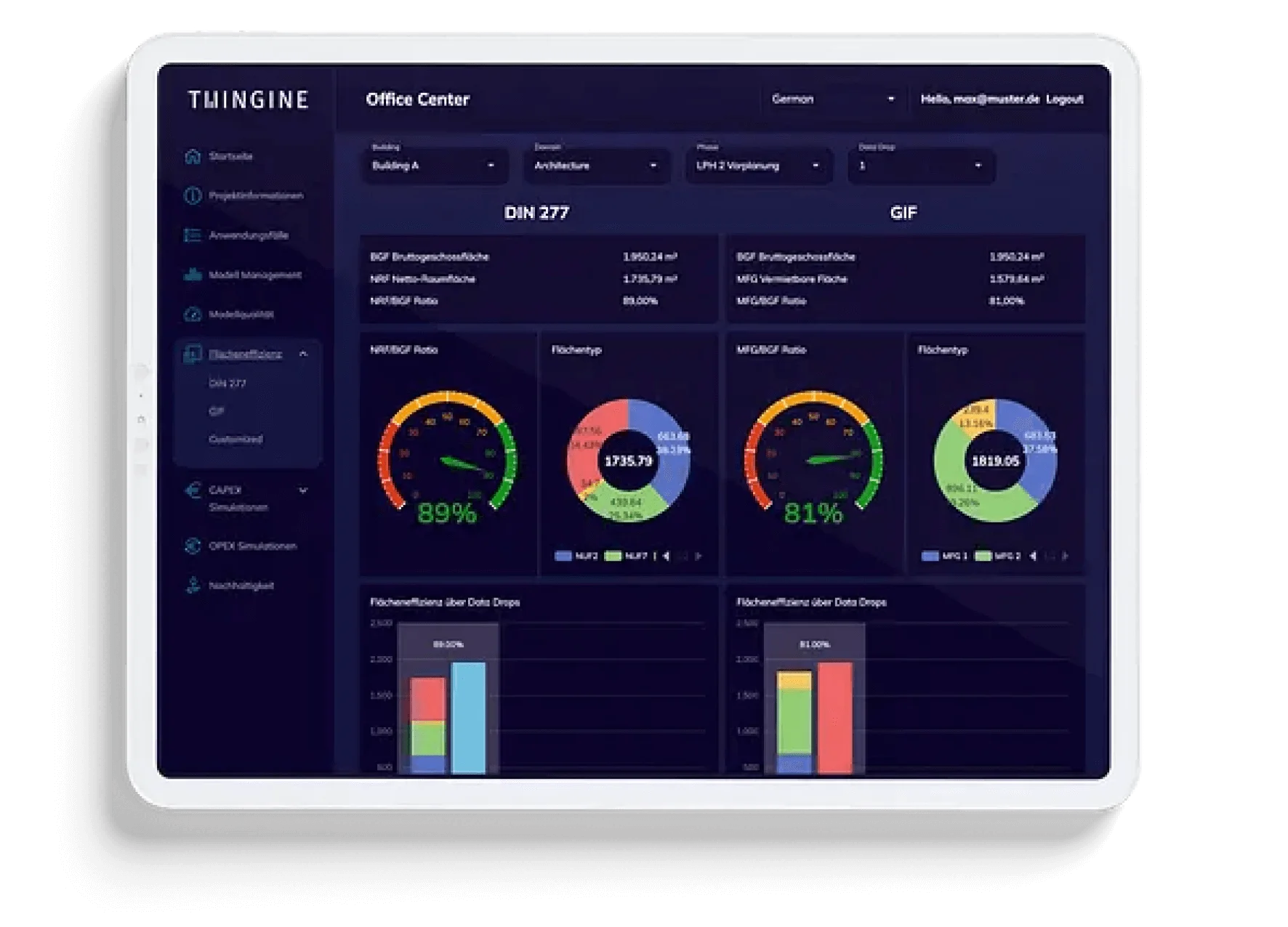 Product functionality explained
Twingine Building Model Analyzer is the first SaaS to make widespread use of BIM models. This tool allows comprehensive examination of business design and transparent comparison of various versions of building models and fittings.
It can generate unique BIM use cases – automatically and transparently – by integrating digital building models with other data sources. The main goal of the product is to make it possible for the building developers to base their crucial decisions on mathematically proven facts rather than assumptions. Costs, profitability, the sustainability of new building projects, and responsible corporate management (governance) (ESG criteria) may all be managed in this way at the early planning stages.
Challenge
Anyone who develops a building to order or wants to sell it to an institutional investor after completion usually has to create a digital twin of the property. For project developers, this has so far been a rather tiresome and, above all, expensive obligation, because, in contrast to the players on the construction site or the future operators, they have hardly any advantages from what is known as Building Information Modeling (BIM).
The main challenge in the construction market in regards to BIM model usage was the complexity and low value for the investors. For the BIM model to be produced, multiple data formats, such as Excel files and PDFs, from multiple sources, are used. A real estate company relies on several data sources, such as business data, IoT/Sensor data, and building data, to keep the day-to-day business up and running. Moreover, the data required for specific tasks are often stored in proprietary systems – making data accessibility, aggregation, and visualization major pain points for real estate owners.
Why is BIM flawed in short?
Too many and too complicated tools.

Too much BIM-specific know-how is required.

Too little transparency about valuable use cases for developers & building owners.
Solution
The end solution should allow the client to be able to systematically evaluate a high-quality and structured model and perform all necessary analyses automatically.
The tool is to provide the following use cases: automatically evaluate, analyze, compare and optimize the building model. Among other things, it should automatically calculate space efficiency of almost 90 percent and thus optimize the building value.
Beyond visualization and clash detection, what do owners and developers hope from BIM?
Suggestions for improving the efficiency of building design

Design alternatives' financial impact

Estimation of life-cycle costs

Simulations of energy

Sustainably designed structures.
Expected benefits from the holistic, digital model analysis for builders include the possibility to:
Validate data automatically

Increase space efficiency

Reduce energy consumption, CO2, and costs
« I've been working with QIT Software for several years now, and throughout this time our engagement has only continued to grow. I have been very happy with the work, both in quantity and quality. The developers from QIT Software are well integrated into our team and are actively engaged in not only programming but also in planning activities. Yegor as their manager is quick to respond and can offer guidance on challenging technical tasks »
Georg Dangl, Managing Director at Dangl IT GmbH & Twingine Partner
Job done by QIT Software
QIT Software was providing services for both frontend and backend development. The main advantage we saw was that the team from QIT Software was very reliable and had a mastery of modern workflows and programming concepts, both in TypeScript / Angular and .NET Core, wherein the latter we not only had an ASP.NET Core microservices architecture but also some library projects.
For the Business logic project, our developers worked on the following problems:
Development of new endpoints (endpoint) for the API.

Writing unit and integration tests

Azure Queue Storage for data exchange between projects

Parsing data from IFC files. Not directly from files, but rather intermediate data that came to me from a project with business logic.
Twingine Building model analyzer development process consisted of three parts:
Back-end

Front-end

Business Logic, which comes in between
Implemented features
The software allows users to select the most potential use cases for each project while identifying the most important model requirements for your projects. Twingine automatically checks and validates all data in the model that is relevant to you for completeness and correctness. Missing data can be added early in the process to improve the quality of your models.
Twingine compares the performance of buildings against any selected standard such as DIN 277 or gif to automatically determine their performance based on the model.
One of the most significant determinants of real estate development costs is capital investment. Capital cost modeling shows effective levers to change the quality in the right places and reduce costs
Twingine compares the performance of buildings against any selected standard such as DIN 277 or gif to automatically determine their performance based on the model.
The program identifies carbon factors at an early stage of design and minimizes the carbon footprint in the long term - both during construction and during the life of the facility.
Outcome
Twingine has already been put to the test in the real world. It is successfully used by SRE in its own projects. It was used – based on models – to precisely determine and optimize space efficiency to increase the value of the building at the new office complex "The Move" in Frankfurt am Main's Gateway Gardens district. Furthermore, SRE calculated the facility's expected energy and operating costs long before the cornerstone was laid, and much more precisely than traditional methods, to show what the expected running costs per square meter would be. Twingine is also being used on two major SRE projects in Berlin: the Siemens Campus Erlangen and Siemensstadt Square.
Curious but not convinced?
If you don't know where to start, we will be happy to guide you with a
free estimate for timeline and price.